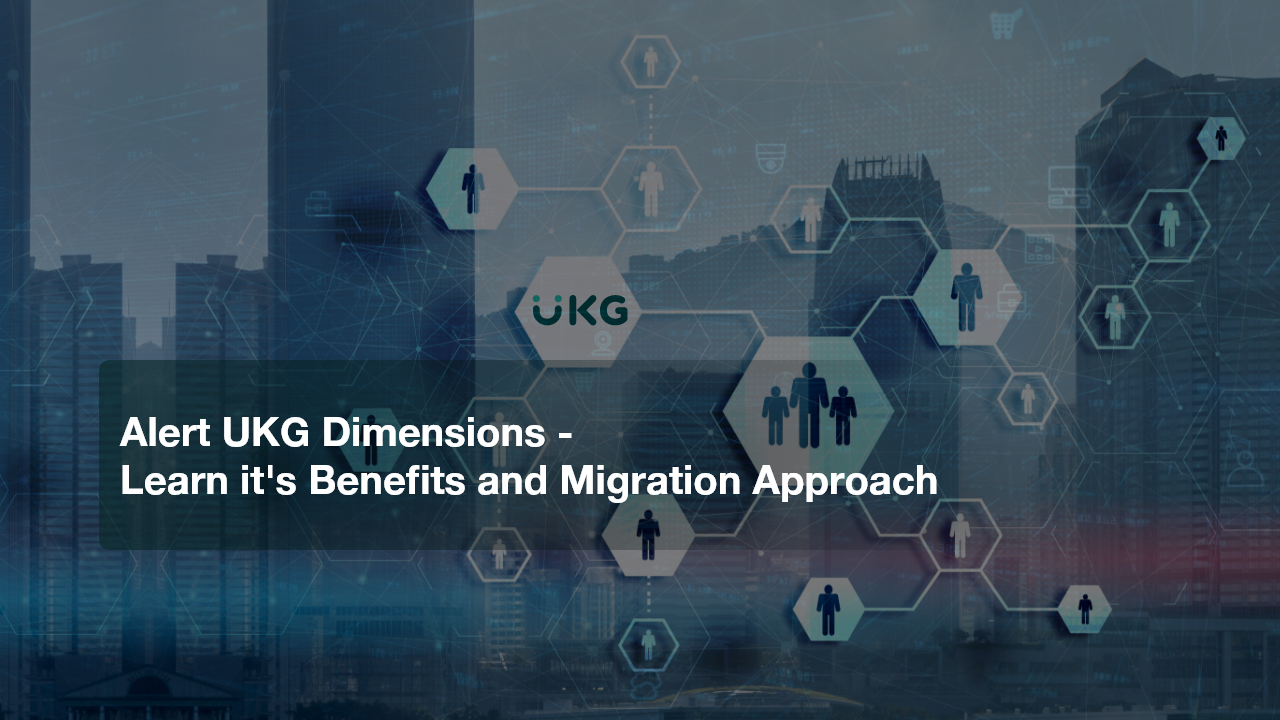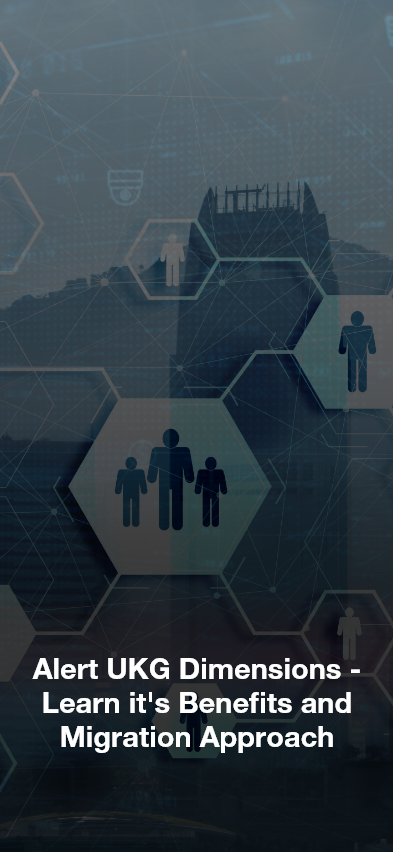 Alert UKG Dimensions - Learn it's Benefits and Migration Approach 
UKG Workforce Central (WFC), previously known as Kronos Workforce Central, comprises a range of workforce management solutions designed to manage tasks like scheduling, time and attendance, payroll, absence management, and various other functions associated mainly with workforce management. However, in October 2020, Ultimate Kronos Group (UKG) announced the retiring Workforce Central product.
Why is WFC's exit a critical consideration for businesses redefining workforce management? Let us explore the same in this blog.
Why migrate from WFC to WFD?
In light of the recent announcement regarding WFC's retirement, the decision is part of UKG's long-term strategy to allow clients to migrate from WFC to the more advanced and function-rich solution, i.e., Workforce Dimensions. As part of this strategy, UKG hosted Workforce Dimensions on a comparatively more scalable and secure hosting option, Google Cloud, by retiring the Kronos Private Cloud (KPC).
But what can you expect from migrating to WFD? Workforce Dimension offers a myriad of benefits as explained below:
Benefits of WFC to WFD migration
WFC Migrations to WFD: A Stepwise Approach
If you have decided to commence the WFD migration process after learning its benefits, having a well-defined plan is critical. Here is a systematic approach to assist you in initiating the process.
1. Outline Migration Scope and Objectives
Before you get into your main objective, i.e., migrating to WFD, it is critical to outline migration scope and goals. This is a great way to keep track of the process and ensure you achieve your desired objective. To define migration scope and goals, you may need to consider the following:
This step involves the following tasks:
3. Recognize and Prioritize Solutions
It is crucial to recognize all applications currently integrated with WFC and decide which of them will be migrated to WFD to prioritize solutions that potentially impact operations.
4. Comprehensive migration plan
It's time to create a comprehensive migration plan comprising a detailed schedule, specific prerequisites, key milestones, and deadlines. For instance, you should determine the optimal migration window to have dedicated time to deal with operational disruptions that may arise during the process. Additionally, ensure that key stakeholders are available during the migration window to guarantee there is no obstruction in the way of a smooth transition.
After migrating data, configurations, and integrations to the Workforce Dimensions environment, it is critical to execute thorough testing. For instance, one must test different scenarios, such as scheduling, time and attendance, and workforce management. Also, make sure that the migrated data aligns with the original data in UKG Workforce Central.
6. Verify data and applications after the migration.
Verifying data and applications post-migration is critical to ensure all business processes function properly.
7. Be prepared for post-migration support
While executing successful migration is essential, it is equally important to offer post-migration support. Make sure to provide ongoing training. Also, deploy a dedicated help desk to address issues that arise post-migration. Most importantly, comprehensively document the insights from the overall project to ensure that lessons learnt are captured for future usability.
Summary and a way forward
As mentioned in the blog, migrating from UKG Workforce Central to UKG Dimensions can be a beneficial investment for organizations in many ways. However, the ideal time to start the migration process depends on your organizational readiness and the complexity of your workforce management requirements, among other factors. Ensure you have ample time to fully evaluate what's working and what isn't in your current configuration of Workforce Central, address pain points and facilitate an effective migration.
about how People Tech Group can assist you.