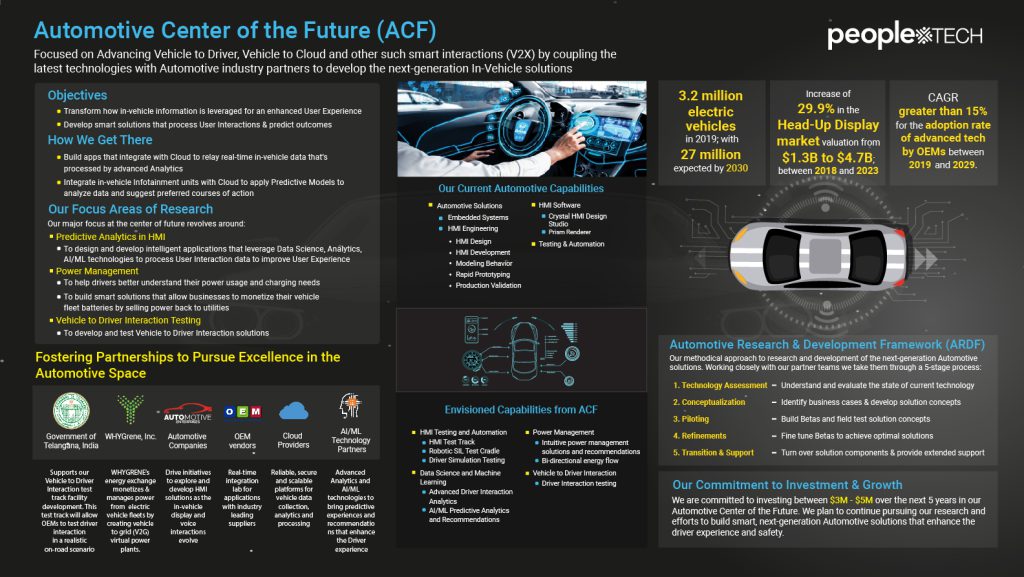 People Tech Group Launches the Automotive Center of the Future
Focus on Developing Next Generation In-Vehicle Solutions
People Tech Group today announced the launch of Automotive Center of the Future (ACF). This research center will focus on advancing Human-to-Vehicle interactions by leveraging the latest technologies alongside our valued Automotive industry partners. The center will bring together current and future research into driver and passenger in-vehicle experiences that transform how vehicle information is leveraged for an enhanced experience.
In announcing the launch, People Tech Group's CEO & Founder,
Vishwa Prasad
said, "we are committed to investing $3M – $5M over the next 5 years in the Automotive Center of the Future; with an undivided focus on researching and building smart, transformative, and next-generation Automotive solutions."
Mr. Prasad continued, "we are working on building partnerships with industry leaders from the Automotive, Energy, Technology, and Hardware Manufacturing spaces and partnering with the Government of Telangana, India – to pursue research in transforming the driver experience and increasing the safety of Automotive solutions."
Surendra Kalahasti, the Vice President of People Tech Group, shared the organization's objectives for the ACF, "We have a clear roadmap laid out to develop smart solutions with the help of Cloud partners by leveraging advanced Predictive Analytics, Artificial Intelligence and Machine Learning technologies and utilize driver and passenger interactive data to bring an enriched in-vehicle experience."
Patrick Phelps, Founder & CEO of WHYGRENE Inc., one of our partners in the ACF initiative, expressed enthusiasm for the initiative saying, "WHYGRENE Inc. is excited to partner with People Tech Group and the ACF. Our secure energy management application supports sustainability efforts through optimally charging & discharging Electric Vehicles (EVs). WHYGRENE's blockchain smart contracts add value by creating revenue streams from underutilized EV assets whether they are in your garage or managed as a fleet. We are confident that our application adds significant value to the ACF in its efforts to transform Automotive solutions as demand fuels EV penetration."
"The Automotive Center of the Future is all about fostering next generation ideas and seeing them come to life", states Bob Duffy, People Tech's Managing Partner. "We will be looking for partners that want to explore that future as we build on our core expertise in in-vehicle software and cloud solutions". The ACF has already launched solution development for in-vehicle interaction analytics as well as EV fleet management. "We will be focusing on bringing valuable new experiences to the driver and bringing smart solutions to life as the in-vehicle experience evolves to include more and larger displays, new sensor and EV data, as well as autonomous driving features".
People Tech Group specializes in offering intelligent, responsive, and high-performance product engineering and
digital transformation
solutions to enterprises to help them transform the way they interact with and deliver value to their customers. People Tech's Automotive Solutions Group helps our customers design and develop advanced in-vehicle and cloud solutions that enhance the drivers experience.
Check out the full range of our Automotive capabilities HERE
WHYGRENE INC. : A cleantech SaaS company that develops blockchain energy exchange. We add value by helping utilities automatically negotiate with owners of batteries & electric vehicles (EVs) to optimally monetize & manage bi-directional energy transfers.